PGA Volunteer Golf Coach Training
Would you like to help children in East Lothian learn to play golf?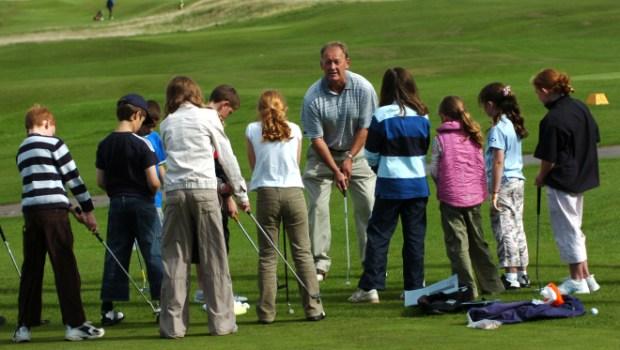 If so we'd love to hear from you! We have lots of opportunities for golfers to volunteer and support junior golf.
You can get involved at your own club or through our community based programme - ClubGolf East Lothian.
You can gain your Level 1 coaching license by attending a PGA weekend training course. Coaches will receive full funding to attend training in return for 20 hours of voluntary coaching in one of our ClubGolf East Lothian progammes. Must be 16yrs or over.
If you aren't sure if you are ready to gain your coaching license then you can still get involved as a ClubGolf helper. This could involve supporting a PGA Pro or ClubGolf Volunteer coach at coaching session or maybe walking a small group of children round the course at some of our fun competitions.
If you love golf and would like to encourage children to love it to then we'd love to hear from you! Please contact Kate Green to discuss supporting East Lothian coaching opportunities further: kgreen@eastlothian.gov.uk
Please click here to find out more about the PGA'S Volunteer Coach Education
Scotland's National Junior Golf Strategy, clubgolf, has been developed in partnership with sportscotland and the sport's governing bodies. The clubgolf programme aims to ensure that every child in Scotland by the age of 9 will…
Be able to experience golf
Be welcomed into a sport they can play for life
Have the potential to become a sporting hero
East Lothian has been delivering the ClubGolf programme since 2005. All our primary schools deliver the introductory level of the programme, firstclubgolf, as part of their P5 PE Curriculum. This reaches over 1000 P5 children in East Lothian annualy. Children in P5 and above can then progress onto ClubGolf after school at one of the 10 East Lothian Golf Clubs delivering clubgolf coaching: Fisherrow, North Berwick, Tantallon, The Glen, Gullane, Haddington, Dunbar, Musselburgh Old, Longniddry and Loretto. We have on average 700 children participating in structured coaching blocks after
For more information about ClubGolf or Junior Golf in East Lothian contact: Kate Green , East Lothian Council's Junior Golf Development Officer, T: 01875 619071 E: kgreen@eastlothian.gov.uk
For more information about the ClubGolf coach and player pathway please click here to visit their site
For more information about Scottish Golf led workshops such as Child Wellbeing and Protection and First Aid click here