Preston Lodge Football & Hockey Season 2019-2020
Preston Lodge High School 2019-2020 season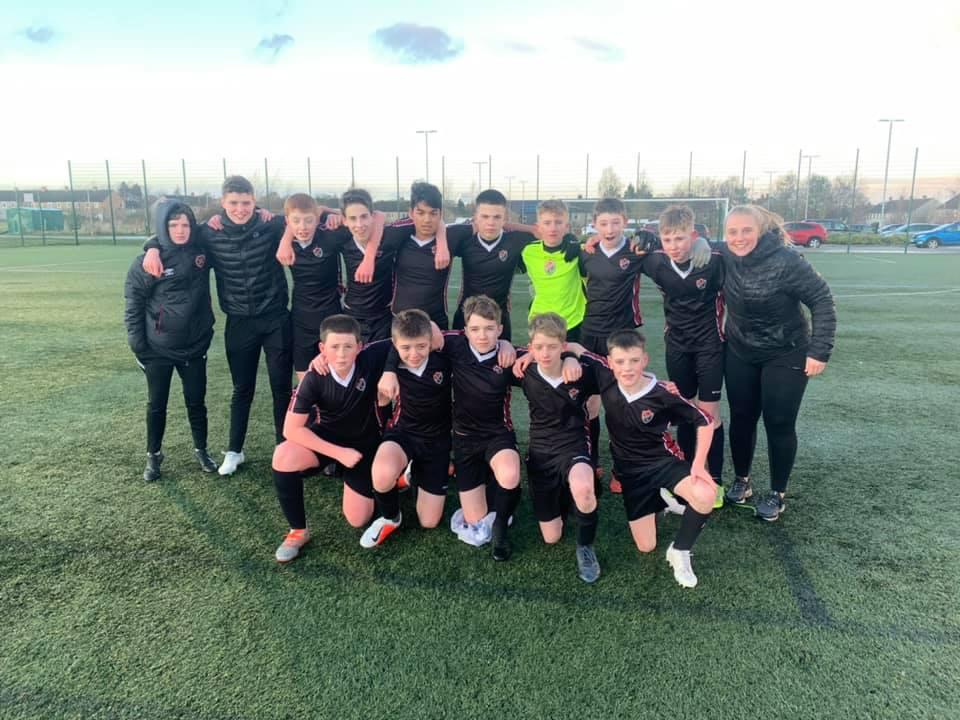 Football:
Our footballers have had a really successful season, with both our boys' and girls' teams participating in local and and national leagues and cups. The U13s boys' football team have had a great start at Preston Lodge. In the sign-up for extra-curricular sport we had 33 boys sign up for football, with 26 of those involved in our School of Football programme. With 26 boys it has been difficult to get everyone game time, due to a limited squad of 16, but all boys have been involved in friendly and/or competitive matches. The boys enjoyed a good Scottish Cup run, with the highlight being a penalty shootout win over St Augustine's, after a 4-4 draw, coming back late on to take the match to penalties. Before the season finished, due to Covid-19, the boys were third in the league with a chance of winning it, in the semifinal of the East-Midlothian Cup and reached the last 32 of the Scottish Cup. A thank you goes to S6 pupil Ewan Ford, who helped the team throughout the year. Preston Lodge U14 footballers had another excellent year, and built on their success from last season. They were unbeaten in the league, winning all six matches, and would have been crowned Champions if they had won their final two matches. The team were also looking forward to the East & Mid Lothian Cup Final, and had an excellent chance of winning the league and cup double. The team worked extremely hard this year, which led to an improvement of their individual skills and an increased awareness on the pitch. If they continue to apply the same levels of effort and commitment then next season should be just as successful. A massive thank you must got to PE teacher Mrs Cunningham, as well as S6 pupils Daniel Mair and Declan Bellany, for their help this year. These senior students were excellent coaches, and provided a lot of support for our young players. The U15s had an exciting season which, hopefully, may still be concluded. They did tremendously well in the Scottish Cup, reaching the heady heights of a semi-final, they were due to play against Notre Dame. The semi-final was just about to be played when Covid-19 stopped the season. Rounds 1 and 2 started with away fixtures in Edinburgh against Stewart Melville and Currie High School. After defeating a strong Stewart Melville side 2-0 away from home the boys went into the match against Currie High School in confident mood, and sealed victory after taking a 5-0 lead, with three goals from Finlay Yule. The final result was a 5-2 victory for PL, and both matches were played in good spirits. The next round was our only home match of the cup run, against Levenmouth Academy. After two cancellations, due to weather, we finally got the game played. The teams had met at U13 level in the Scottish Schools Football Association (SSFA) 7-a-side national finals at Toryglen. The boys again put in an excellent team performance, with three goals from Ethan Laidlaw, and an outstanding assist from Charlie Russell. The team also kept a clean sheet until the last kick of the match, to make the score 6-1. The last-16 match against Broughton was postponed after 8 minutes in the first match. The rescheduled match was played and PL sealed a 4-1 victory, to progress to the quarter final against Duncanrig. A tough match in East Kilbride saw the boys seal a 2-1 victory to progress to the semi-final to meet Notre Dame. The match is still to be played. and will hopefully take place in the new academic year. A big thank you goes to the adults who have supported us in all matches. With only one home match they have travelled all over the country to support the boys. Also, a thank you to Sam Taylor who continued to lead the boys in our fantastic cup run. Our U16s and U18s only played in the Scottish Cup this year. Both teams were eliminated in the early rounds, unfortunately. A thank you to the S6 boys and girls who have now left school. Unfortunately we were unable to make our annual video for them leaving, but we have been proud of their efforts throughout the years with a Lothians Cup and East Lothian Cup win in U16s and U18s, as well as cups and league titles in S1-S4 it has been a successful spell.


This year our girls were limited in matches, but we have progressed a great deal, with now 20-plus girls in S1 involved in the School of Football programme. This is the first year we have run the course in S1 and we are delighted to have so many involved. The success of our Senior girls at the East Lothian Sevens this year is testament to all your hard work, support and of course, the players commitment and enthusiasm. A special mention must go to Ethan Laidlaw, who became the first Preston Lodge pupil called up to the Scotland National Football team at U15s. We are extremely proud of Ethan's efforts and wish him all the best once football is back up and running. Finally thank you to Kim Cunningham, John Hall, Sam Taylor, Daniel Mair, Declan Bellany and Ewan Ford for all their efforts and help this year

Hockey
Active Schools Preston Lodge would like to thank all coaches for their efforts this season. A big thank you to Fiona Grant-Macdonald who has led our hockey programme and increased participation and the match experiences that our pupils at Preston Lodge are now getting on a weekly basis. A special mention to our S6 coaches Emma Lessels and Amy Lumsden, who have brilliantly led our younger players all year. Their help was very much appreciated, and I am just sorry we couldn't celebrate their efforts and achievements properly with the teams. You are probably all aware of Scottish Hockey's recent decision there will be no hockey until September, and even that will obviously be dependent on where we are in the pandemic phased return, so Preston Lodge are looking to build something special at PL over the coming seasons, with the beginnings of District Level players starting to come through - but only with continued support of players, parents, Active Schools, PL Ladies and of course, you, the coaches and volunteers who make it all possible. We have had 5 teams out most Saturdays and training numbers on Tues and Weds have often seen in excess of 20 per session, with the boys and Seniors also coming along on a Monday. Not too bad when 2 years ago we struggled to get a team together and 20 out on one training day! Mid week matches have seen us take on the likes of Loretto and Stewart's Melville (2 of the best hockey schools on the country at the moment) and we have also welcomed players from Musselburgh Grammar in to the team to support their pupils in getting competitive games.