RHSPOTY19 Ross High School Sports Personality of the Year 2019
It is that time of year again when we acknowledge the many successes of our sporting pupils at Ross HS.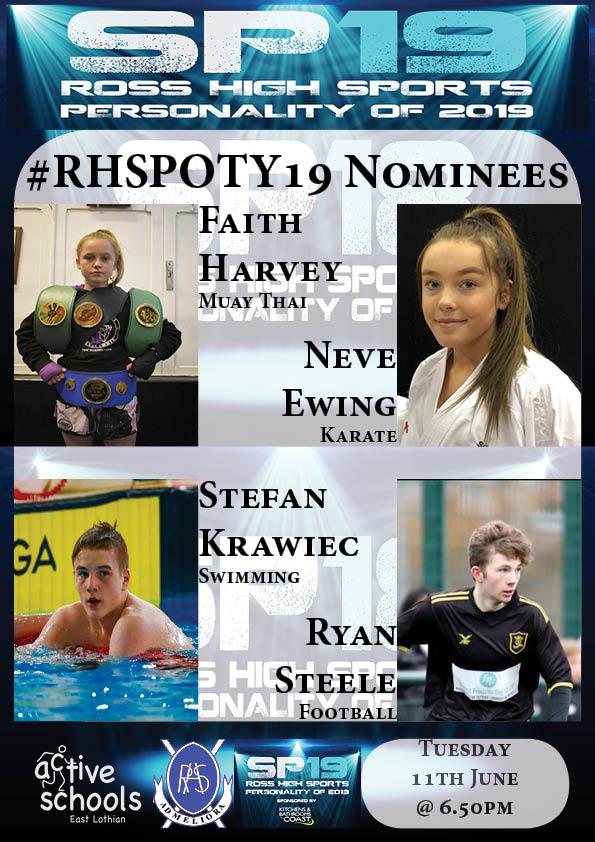 Tuesday June 11th brings our 6th Sports Personality of the Year Awards to Ross HS.
Over the last few weeks, pupils have been nominated for their sporting achievements in school and community clubs and teams.
The Ross High Sport coaches are busy nominating their Player of the Season for their respective teams and clubs.
Pupils who have competed or represented at a Regional, National or International level have been nominated as #RHSFutureStars.
Four pupils have been nominated and shortlisted as our SPOTY Nominees. These four nominees have inspired many of our pupils and our local community, either through their own perseverance, resiliance, success or support of others.
Our Four SPOTY19 nominees are:
Faith Harvey - S1
Faith currently trains at black diamond Thai boxing club based in Tranent. The sport of Muay Thai is the art of eight limbs as you use your whole body to fight from knees, shins, elbows and punches she took up the sport in 2017 with no other martial arts experience whatsoever she was eager to compete and stepped into her first fight at only 48hours notice which she won in the first round. Fast forward a year and faith went on to win eight out of ten fights currently holds six titles WTKA Scottish champion 2017, WTKA Yokkao British K1 champion 2018, WTKA Yokkao British champion 2018, WTKA Celtic nations champion 2018 and two world titles one in K1 and the other in Muay Thai where she competed over in Italy in October 2018.
Neve Ewing - S3
Neve currently trains 13 hours a week with local Karate club CEK. As a Scottish National team member she is ranked 16 in the world. To date her 2018 results are: Current Wado World & European Champion, Ultimate Karate and Irish Champion, Reykjavík games Champion 2018 and 2019 ( Iceland), Lisbon Open Champion 2018 ( Portugal ), Danish Open Champion 2018, CIKA Internatinal Champion 2018, Austrian Open - Bronze , Swedish Open - Bronze , Amsterdam Cup - runner up , British open - runner up. In 2018 Neve won 53 medals, 29 gold, 19 silver and 5 bronze.
Stefan Krawiec - S1
Stefan has taken the Scottish Swimming scene by storm over the last 12 months.
In the months of November and December alone, Stefan broke the Short Course (25m pool) National Age Group (12 years) records in 50m, 200m, 400m, 800m, and 1500m FC, 50m Backstroke, 50m 100m 200m Breaststroke, 50m, 100m, 200m Butterfly and 200m IM
Which means he is the fastest 12 year old EVER in Scotland to compete in those events. Some of those records had been held for a great number of years.
He is the current Scottish Age Group Champion (11-13 years) in
50m Fly, 200m Fly, 200m FC, 100m Fly, 200m IM, 100m FC, 200m Br, 400m FC, 100m Br, 400m IM
All achieved in while 12 years old which means he beat out boys a year older than him and he has another year to retain these titles in this age group.
Stefan is a tremendous talent and works hard constantly, training before and after school several days a week. At the moment, although he races in finals against people his age, he will compete in heats against boys that are 15/16 years old and not look out of place. He is already one of the most successful sportspeople we'll see and he is still improving all the time. The sky (or sea) is the limit.
Ryan Steele - S6
Ryan is an amazing athlete. At the bringing of the football season his pro youth team that he has played for and excelled with over the past few years folded with no fault to the players. This came as a complete shock to the players. Ryan although saddened and disheartened that this had happened picked himself up and within one week he was playing with other teams and offers kept coming in from teams that wanted him. Ryan after trailing teams and a lot of thought decided to sign with Edinburgh city 20s. This season he has gone from playing with boys to playing with men. He has gone from strength to strength. He has proven not only to himself but many others he deserves to be where he is. Ryan also helped out as a co-coach with last year's S1 school football team, and continued to support them in their second year this season. He was the captain of the Lothians regional team and was the only player in East Lothian to be requested for Scotland school boy's trials. Whilst all this was going on he kept his school work and grades up and has managed to successfully get 8 scholarship offers (to date) to the USA so he can finish his education whilst still getting a chance to prove himself on the pitch. Ryan is an inspiration to other pupils and peers.
The Ross HS pupils will get their chance to vote for whom they wish to be their #RHSPOTY19 in June.