The FINAL results are in .... 
2021 Junior Golf East Lothian U14 Order of Merit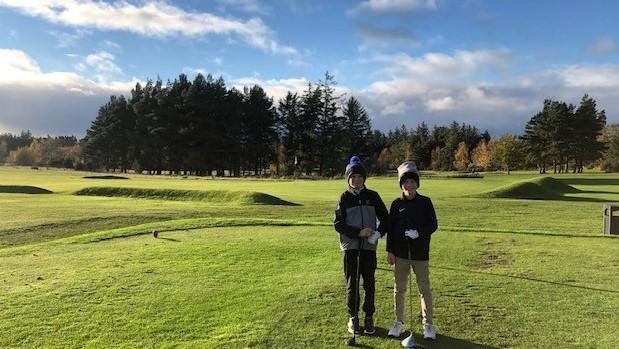 89 individual U14 juniors competed in 13 Junior Golf East Lothian U14 Order of Merit events between April and November. With a record high number of entrants it was a hotley contested title. Many thanks to you all for supporting these events and for showing commitment to golf despite all that 2021 threw at us!
Huge congratulations go to our winner Hudson Blair who topped the 2021 Order of Merit with a massive 1055 points which was 440 points clear! This was a fantastic achievement by Hudson who attended every event this season, showed real commitment to golf and always maintained a positive attitude in all weathers!
Congratulations to Aedan Halliburton who came in a close 2nd with 615 points. I'm sure the gap would have been less if he hadn't missed a couple of counting events so again a brilliant effort. Aedan was 3rd in our last order of merit so he's moving in on that top spot!
Congratulations also to Louise Martin who came in 3rd and was only 55 points behind Aedan which having missed 4 counting events due to her other golfing commitments was very impressive. Louise has also been a great help this season supporting to run the competitions and going out on the course with younger players. As Louise now plays off 9 she normally plays on courses that aren't quite so "wee" but she continues to see the benefit of getting a quick 9 round the wee course to focus on short game. She is also a great role model to the younger players and we are grateful that she continues to come along to inspire our younger golfers.
The below players have finished in the 2021 Order of Merit Top 12 and will be invited to take part in a Prize Winners Golf Clinic.
Well done all and details will be sent to you directly in due course.
Click here for the full 2021 Junior Golf East Lothian U14 Order of Merit
2021 U14 Junior Golf East Lothian Winter Order of Merit: TOP 12
| | | |
| --- | --- | --- |
| Position | Player | Total points |
| 1st | Hudson Blair | 1055 |
| 2nd | Aedan Halliburton | 615 |
| 3rd | Louise Martin | 560 |
| 4th | Rory McCrossan | 460 |
| 5th | Rory Papakyriakou | 425 |
| 6th | Freddie Bradley | 375 |
| 7th | Callum Smith | 280 |
| 8th | Rory Paterson | 210 |
| 9th | Luke Van der Post | 175 |
| 10th | Donald Templeton | 130 |
| 11th | Harvey Blair | 125 |
| 12th | Scarlett McCrossan | 120 |
Our 2022 Junior Golf East Lothian Winter Order of Merit will start at our next event on Sunday 16th January 2022 so the slate will be wiped clean and there is everything to play for again!
All U14 juniors are welcome to join in with these events. The events are not only a great way for juniors to practice and improve but also opportunity for everyone to meet other local golfing families.
Our message to juniors continues to be that you are never too big for the "Wee course" and we are extremely lucky to have such a fantastic facility in East Lothian. It gives us the opportunity to play a quick round in the winter months, keep the swing going and practice short game for those that are bigger.
Huge thanks to North Berwick Golf Club for continuing to make their course available to us and make golf accessible for all.
To find out more about getting involved contact Kate Green: kgreen@eastlothian.gov.uk